WILLIAM WALLACE HIGGINS
AND
JOANNA THORPE HIGGINS
I HAVE WONDERED SO OFTEN WHAT LIFE WOULD HAVE BEEN LIKE DURING THE LIFETIME OF THESE TWO PEOPLE. ACCORDING TO ALL ACCOUNTS, THEY WERE IN LOVE AND STAYED THE COURSE THROUGH THICK AND THIN. I KNEW EVERY ONE OF THEIR CHILDREN, AND THE BEST WAY I CAN CONVEY TO YOU ABOUT WHAT THEY MEANT TO ME, I WILL GIVE AN ACCOUNT FOR EACH:
MARY (NEVER HEARD HER MIDDLE NAME)-SUCH A PERFECTLY HAPPY FACE ALL THE TIME, SHE AND WILL WORKED TOGETHER, EVEN IF HE PAPERED THE HOUSE, OR SHE HELPED SHELL CORN. IN HER DIARY, ALL OF A SUDDEN, WITHOUT COMPLAINING ANY BEFORE HAND SAID, LITTLE AL TA WAS BORN LAST NIGHT. I THINK SHE DID HAVE A LITTLE SICK SPELL ONCE BEFORE. I LOVED HER, AND SHE SHOWED HER AFFECTION TO ME. ARTHUR OTTO (BUD}--VERY HANDSOME, SMILING ALL THE TIME, SEEMED TO BE CONTENT WITH HIS LIFE WITH LUCY, MARY MAUDE, FERN, HAROLD AND VERNA, WHO DIED AT AGE 13.
CLIFF, ALMOST GOT TAKEN BY INDIANS AS AN INFANT, HAD TUBERCULOSIS, BUT LUCKILY FOUND HIS FIRST LOVE THERE, MARRIED AUNT ROSE AT THE TUBERCULOSIS FARM IN AZ, AND PROMISED TO RAISE CHILDREN IN GOD'S WILL IF THEY WERE ALLOWED TO HAVE THEM AT AGE 40 AND 56. THEY DID, AND THAT WAS THE START OF WALLACE AND MARY FRANCES, AND THEY WERE RAISED TO BE CHRISTIAN WORKERS TO THIS DAY. THEY WERE VERY THOUGHTFUL, CARING, CHRISTIANS, TOO.
PLEASANT CLYDE-I WASN'T AROUND PLEZ VERY MUCH EXCEPT AT FAMILY REUNIONS. HE LOVED THE FAMILY, AND RAISED LOLA AND STRAUSS WITH CORA. THEY LIVED IN WICHITA. IN LATER YEARS, THEY DIVORCED, BUT CORA LET HIM LIVE IN AN UPSTAIRS BEDROOM WITH HER AND HER NEW HUSBAND. WALLY USED TO GO BY AND SHAVE PLEZ AFTER HE GOT OFF WORK. I VISITED HIM THERE ONCE. HE NEVER MISSED BUT ONE REUNION.
JACK WAS THE PRANKSTER AND JOKER OF THE FAMILY. HE SAYS IN HIS STORY, HE NEVER CARED FOR A CORN BINDER OR FARMING, BUT HE LOVED GUNS AND HUNTING. AND HE SUPPLIED THE FAMILY WITH PLENTY OF GAME. I LOVED HIM VERY MUCH. AURA-LIVED IN TONKAWA WITH HER HUSBAND, GEORGE AND DALE, ROY AND FOREST. FOREST FELL FROM A HORSE, AND LAY COMETOSE FOR SEVERAL YEARS ON A BED IN THEIR KITCHEN, BEFORE HE DIED. I LOVED THE BOYS AND THEIR WIVES, PAULINE AND MARCEILLE. SHE WAS A LOT LIKE AUNT MARY, VERY EASY-GOING, BUT BUSY ALL THE TIME. SHE SEEMED CONTENTED WITH LIFE, TOO.
EVERETTE-ONE OF MY FAVORITES. WHY? BECAUSE HE ALWAYS MADE ME FEEL LIKE I WAS HIS FAVORITE! IT WAS YEARS LATER THAT I REALIZED ALL THE GIRLS THOUGHT THAT!! I VISITED HIM ONCE IN OK AFTER AUNT FLO DIED. THEY HAD NO CHILDREN. HE TOOK ME TO THE COWBOY HALL OF FAME IN OKLAHOMA CITY. HE FED ME GRITS FOR BREAKFAST. HE GAVE ME AN OLD CHAIR TO REFINISH. AFTER HE DIED, HIS NEPHEW GAVE ME A CHINA CABINET WITH ROUNDED GLASS IN THE FRONT. JULIE HAS IT NOW. IT IS STILL BEAUTIFUL. MARY LOU AND I SANG GOING HOME AT HIS FUNERAL. HE WAS A RARE JEWEL OF AN UNCLE. I LOVED HIM.
ESTHER BESSIE-MY AUNT BACHIE WAS MY ANGEL. SHE WAS AT THE FARM AND OUR HOUSE A LOT DURING MY YOUNG YEARS. I WROTE TO HER WHEN I WAS ONLY 6 YEARS OLD AND TOLD HER THAT I LOVED HER AND WANTED TO BUY HER A LITTLE BOO DESS, A LITTLE BOO HAT AND BOO SHOES, BECAUSE SHE HAD BEEN SO GOOD TO BRING US CANDY FROM KANSAS CITY, AND SHE MADE US OUR FIRST FRIED EGG AND TOMATO SANDWICHES. OF COURSE, SHE HELPED MAMA SO MUCH WITH COOKING, AND SHE WAS A WONDERFUL COOK. I CAN'T GIVE HER THE LOVE I REALLY FEEL, BECAUSE THERE IS SO MUCH OF IT LEFT IN MY SPIRIT. SHE HAD TWO GIRLS, THELMA AND LORENE.
THEN THERE IS ANNABELLE, AND I AM CRYING AS I WRITE THIS. I LOVED HER SO MUCH, AND SHE SHOWED LOVE TO ALL HER CHILDREN, THOUGH SHE SAID IN LATER LIFE THAT SHE WISHED SHE HAD GIVEN ALL EIGHT OF THEM MORE OF HER ATTENTION. I DON'T KNOW WHERE SHE WOULD HAVE GOTTEN IT! SHE WAS A CHRISTIAN, AND GAVE ALL HER CHILDREN THE BEST CHRISTIAN ADVICE SHE KNEW. BUT TO ME, SHE WAS AN ANGEL SENT FROM GOD TO CARE FOR ME. AND WHEN SHE GOT CANCER, HER FAMILY DID THE SAME FOR HER.
I AM SO GLAD I LIVED TO KNOW ALL THESE PEOPLE, AND IT HAS GIVEN ME A GOOD SENSE OF WHY AND HOW THEY LIVED, LOVED AND SPENT THEIR ENTIRE LIFE. GOD BLESS YOU ALL. THERE WERE 8 OF US: MARGIE, LAMAR, FLOSSIE, ALFRED, JR., WALLY, BOBBIE, MARY LOU AND LYNN. GOD BLESS EVERYONE!
Bobbie
Descendants of Philip Philemon Higgins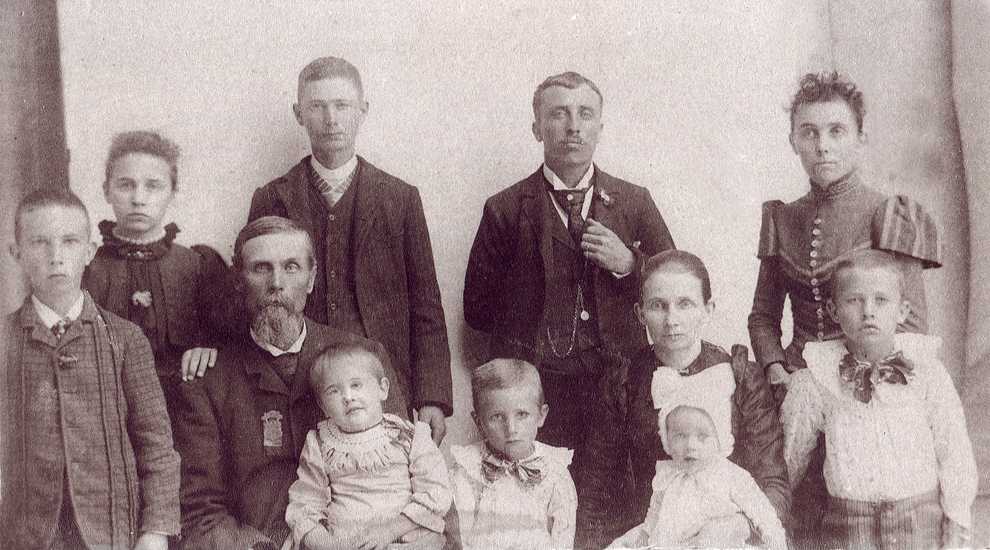 Aura, Cliff, (Bud), Mary
Plez, William, Bessie, Eve, Joanna, Annabelle, Jack
4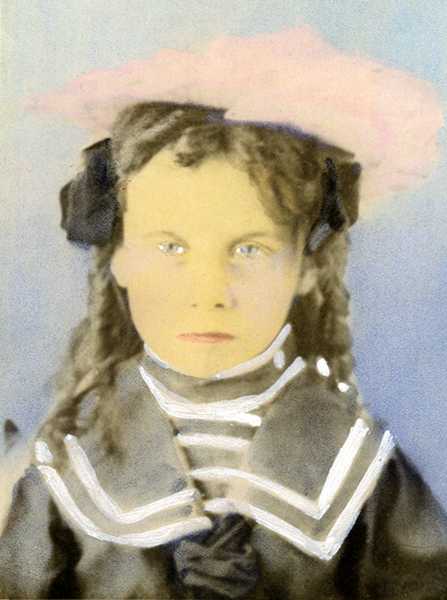 Annabelle Higgins, Age 5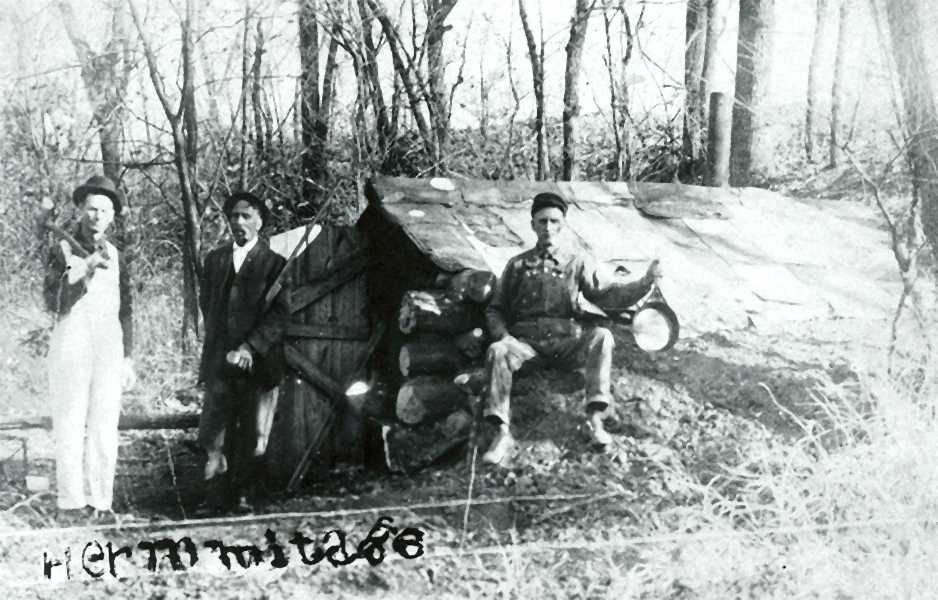 Annabelle was born in this dugout between Burden and Atlanta. Cliff, Bud,
and William Wallace H.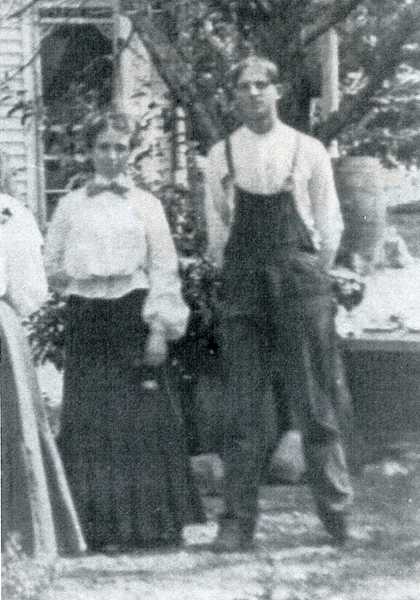 Best Picture of Alf and Annabelle taken about 1910, Wedding Picture?
1909: Bessie, Cliff, Aura, George Fuller, Mary, Annabelle, Will Moore (Alta),
Joanna and Plez Front Row: Ben Woods, Jack, Eve, Bud ??.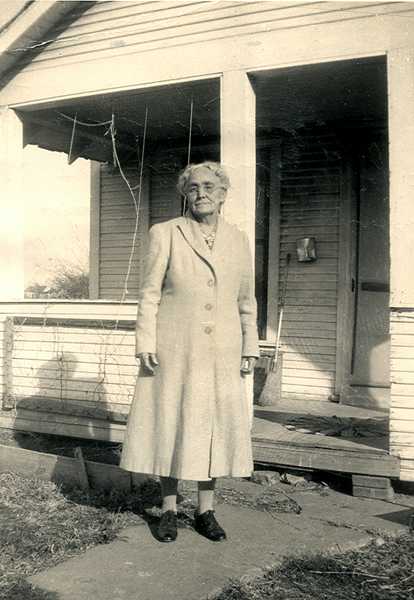 Mary Higgins Moore
Aunt Mary was one of my heroes. She was very Industrious, witty, held to her
religious beliefs, and was a caregiver for all the Higgins kids. Mama loved her.
At their annual Higgins reunions, they always had a roll call. The roll was called
by answering to what the host had decided. One year, the role was answered
by should a woman be president of the USA? Aunt Mary passed out the above
picture, saying, May I present my card? In her diary, she noted that when the
Women were given the vote, she was very happy.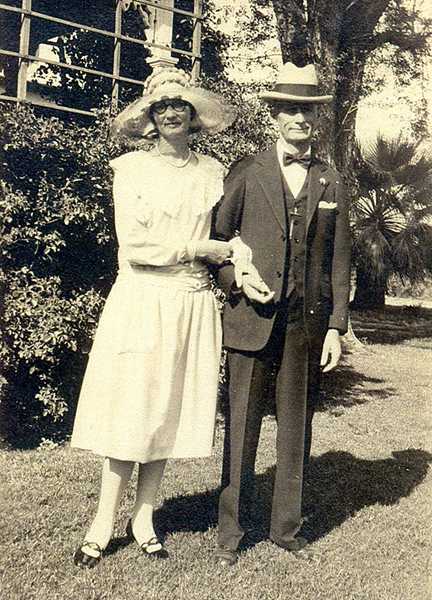 Uncle Cliff and Aunt Rose on their Wedding day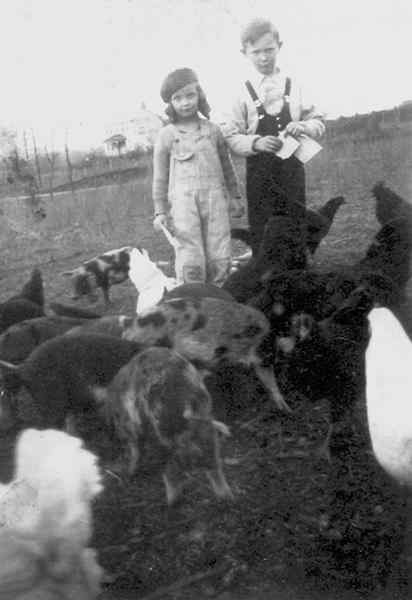 Mary Higgins 5 or 6 yrs old, Wally Higgins 7 or 8 yrs old.
Feeding the Pork Sprouts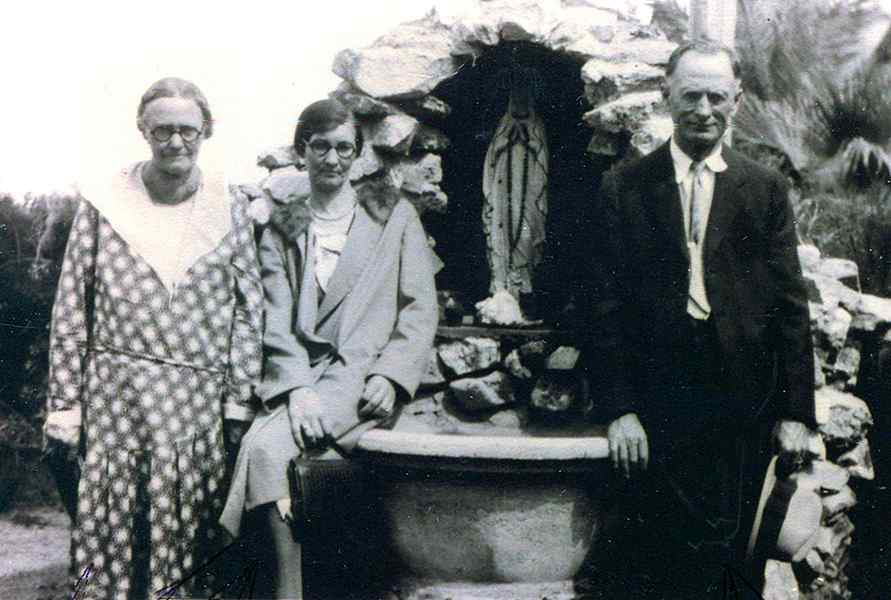 Friend unknown, Mrs. Rosetta Higgins, Mr. Cliff Higgins, About 1929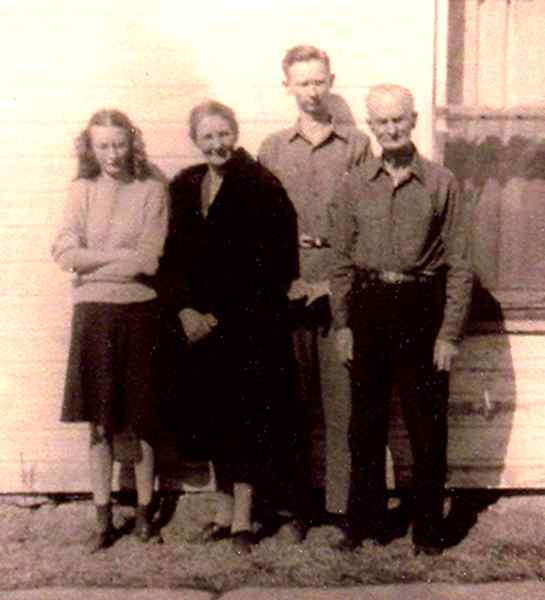 Mary Higgins, Rosella Higgins, Wally Higgins, Cliff Higgins
Atlanta Kansas in the 1940's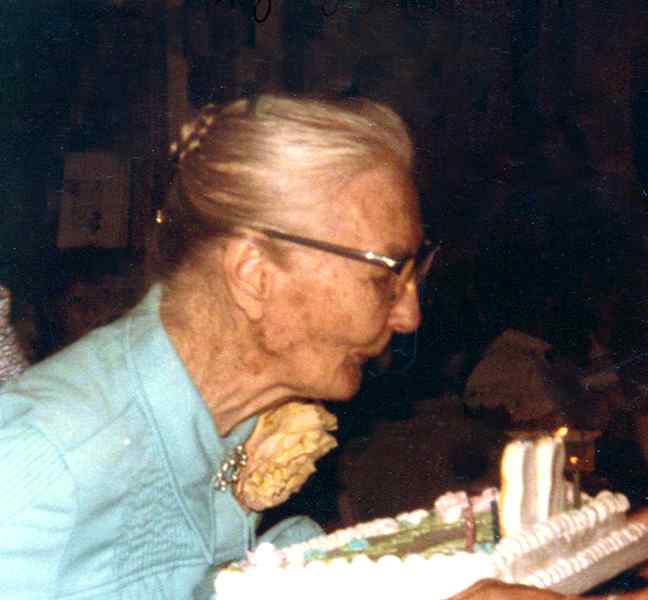 Rosella Higgins, Birthday in her 80's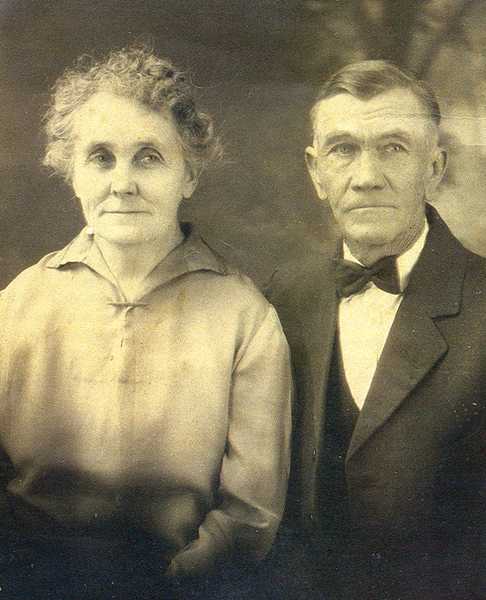 Aunt Mary and Uncle Will Moore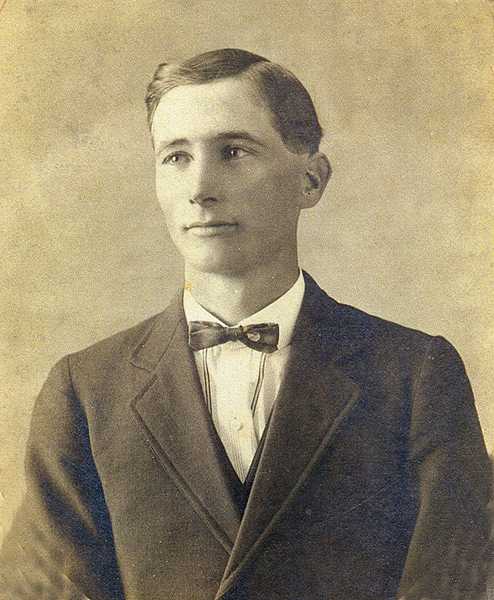 Everette Higgins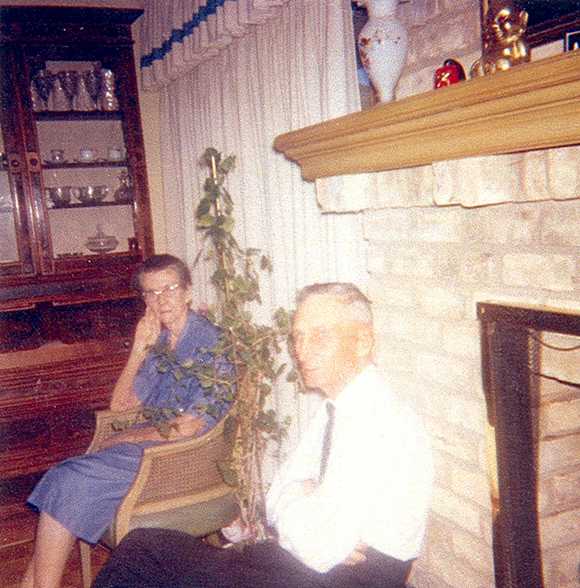 Aunt Flo and Uncle Eve

Eve Higgins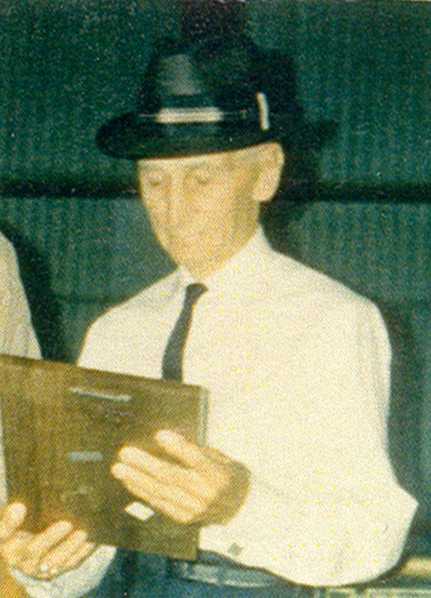 Eve Higgins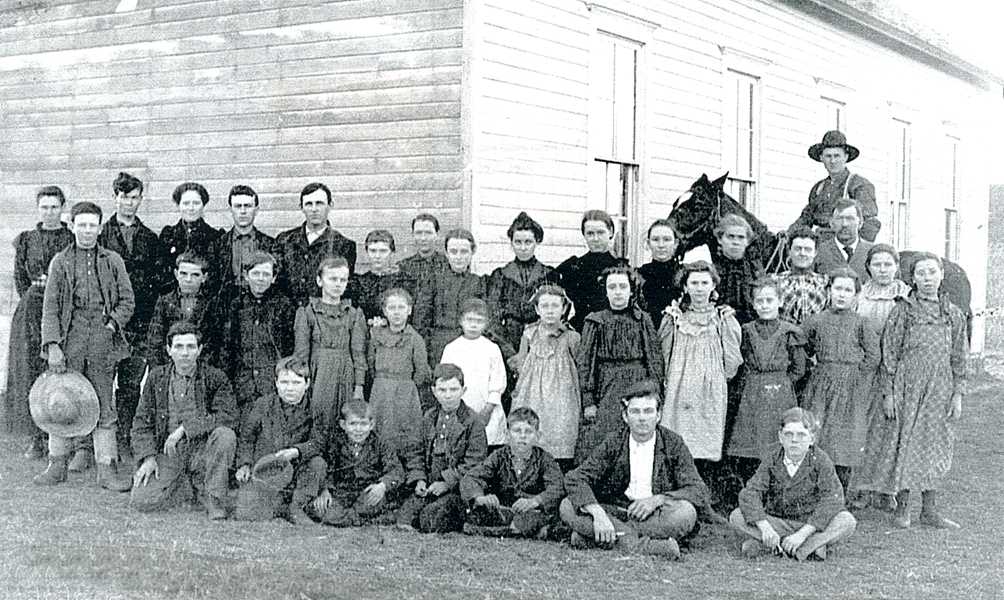 Latham: Annabelle (white), Blanch??, Bessie
Jack Higgins, Atlanta Pioneer Recalls Early Days in Cowley County
By Charles O. Cole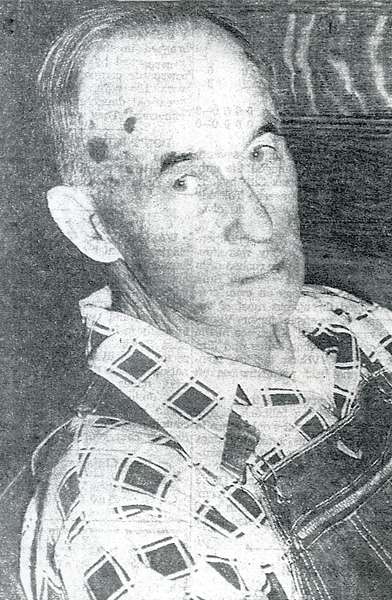 JACK HIGGINS, 71, has lived in the Atlanta community all his life. He's
considered a walking encyclopedia on history of the community and
its residents. (Cole photo)
I just never could get attached to a car, binder, wheat drill or what have you. Jack Higgins looked around But now a horse and buggy, thatís different.
When I was growing up, he recalled, you were a lot better of the kick a man than his horse. You could get in lots of trouble kicking a horse.
Jack J. Higgins will be 72 years old in January. He lives with his wife just a block off the main street in Atlanta-and heís farmed and hunted in the Atlanta region most of his life.
My folks, he said, moved to Cowley County in the spring of 1871 and staked a claim three miles south of Atlanta. They sold out later and moved to Missouri. But they came back to Kansas.
Jack was born in Platt county, Missouri, Jan 30 1884 and was two years old when his family Came Again to Atlanta area. They settled on a farm three miles south east of Atlanta, in a community named Baltimore which no longer exists. We came to Platt County in a covered Wagon, Jack said.
60 in Rural School
Young Higgins enrolled in what was then known as Stout schoolhouse (later to be renamed Hardscrabble.) He finished grade school there. I still have the official lists of names in the school there when I started as a six year old, he said. At least half the boys enrolled were 20 or more years old. There were 60 to 65 children in the school then.
About two months ago. Hardscrabble schoolhouse was sold and moved. In 1954-the last year classes were held there-only three pupils were enrolled. When I was in school, about all that was taught was reading, writing, arithmetic, and spelling.
One incident in his school days stands out in Jack Higginsí memory. I had a penny pencil-a new one, he recalled. It was supposed to last me all term, too, since even pennies were not plentiful back then. Anyhow, I met Doc. Carver on the way to school one day. Doc, then, was the worldís champion rifle shot. He told me to toss my pencil in the air. I did. He shot it to splinters, aloft.
Uses Incredible Pencil
Well I figured Iíd get a licking sure. But Doc took me to his house and gave me the first indelible pencil Iíd ever owned. He showed me how to wet the lead and write on my hand. I took it home and my folks were not suspicious about anything.
Next day at school, I wrote every kidís name on his hands with my new indelible pencil. The teacher told my mother. I got the spanking anyhow-the one I deserved for losing my penny pencil.
After he finished grade school, Jack Higgins started farming. Iíve farmed all my life, he said. Itís the only trade I know: Iíve lived and farmed near Atlanta all my life.
On Aug 17 1912, Jack J. Higgins was married to Frances Brooking in ceremonies at El Dorado. Only one of their three children still lives. He is Jack J. Jr., 41, who is postmaster at Blackwell, Oklahoma. He, like his father, finished his elementary education at Hardscrabble school. He was graduated from Atlanta high school; attended Wichita Business College; and attended the Tonkawa College.
An Army Reserve major, Jack J. Jr. and his wife have four children, two boys and two girls, from 9 to 17 years old.
Retired 7 years ago
After he began farming, Jack J. Higgins was for 27 years on a farm at grand prairie, then he moved to a farm on Timber Creek near Atlanta for 23 years. I retired at 65-about seven years ago. He said.
Really Iím a dog and a gun man, Jack said, explaining his present-and past-hobbies. I cut my eye-teeth on a gun. I like outdoor life; the timber, woods, and streams. Iím part of the outdoors I think and I always have been.
Jack hunts just about any sort of game animal or bird that lives in or passes through his neck of the woods: Atlanta. Most of my spending money while I was in school was earned trapping, he recalled, I trapped coons, mink, possum, shunk, muskrat, and anything that grew fur and lived along Timber creek.
Low Fur Price
Jack Higgins today laments the low market price of all furs except mink. From my 20th to 40th year, he said, I had wolf dogs-and I could make pretty good money with them too. In those days we got anywhere from $6 to 7$ for a coyote hide-plus 1.50 for the scalp. In those days, that was better than the going wage for most work.
There were nine children in the Higgins family that settled near Atlanta. Seven still are living. The two who are dead, said Higgins, were among the first white children born in the freshly-settled Atlanta area. Jack himself was 10 years old when the Oklahoma Cherokee strip was opened-on Sept 16, 1893. My dad and oldest brother made the run, but it profited them nothing. The land Dad had picked turned out to be school land.
Hunting game was good, and profitable, when Jack Higgins was a youngster. I've been so tired of venison and prairie chicken I wouldn't touch the stuff, he said. The country then, he recalled, was thick with the prairie chicken, and deer were easily sought out and killed.
As Old As Atlanta
Atlanta was begun as a town the year Jack Higgins was born. I can remember my first impressions of the town, he said. Atlanta was all wooden buildings-on main street and elsewhere. Sidewalks were of wood, too. Most of the structures have burned.
Brick business buildings began to come into the scene with a slight boom Atlanta enjoyed in the early 1920's.
In those years, the Eastman oil field opened, and Atlanta's business buildings, home and population increased. But it was way before that when the first 'automobile' carne to town, he recalled. The car was owned by H. T. Trice-a land agent-from Winfield. It had hard-rubber tires and was an International. I think. Trice brought the car over from Winfield to the first Labor Day celebration in Atlanta, in 1907.
And Mr. Trice made quite a bit of money charging 25 cents per person for a ride around the block, Higgins recalled. In those days, all Atlanta streets were lined on each side with hitching racks.
Attended All Fairs
Nor more than half a dozen people have lived longer in Atlanta than Jack J. Higgins. He has attended every single production of the Eastern Cowley county fair at Burden since the celebration first began-more than 60 years ago.
I started going to that fair when r was about 10 or 11 years old, he said. It's always been a nice event, for me, But the biggest crowd I've ever seen in Atlanta was the one that collected for the 1912 Labor Day celebration.
Neither World War's end provided a bigger or more enthusiastic crowd, he said. That 1912 Labor Day saw a parade in Atlanta that was one and one quarter miles long-made up of horse drawn vehicles and bands, Prizes were given then for the prettiest or best decorated buggy.
An abandoned theater building stands on the west side of main street in Atlanta; it's of brick, and large. But it never was too successful. said Higgins, Best show I ever saw there was in the early 1920's when a local boy-Charlie Dryden-came home and put on a benefit show. Dryden was a juggler-gymnast with Ringling Brothers-Barnum and Bailey and several other famous circuses. Crowds were turned away from that performance, said Higgins.
E. MOORE is an old and highly respected citizen of Cowley county, Kansas, where he has successfulIy tilled the soil since the spring of 1875. He now has a fine home in Silver Creek township on the northwest quarter of section 4, township 31, range 6, east. He was born February 25, 1826, is a native of Burke county, North Carolina, and a son of William and Martha (Norton) Moore.
William Moore was of Scotch extraction, and a man of considerable prominence wherever he resided. He served as justice of the peace many times, and was a stanch Whig. He died in 1870, aged seventy years. Martha Norton, who was nicknamed Patsy, was born in South Carolina, was wedded to Mr. Moore in North Carolina, and passed from this life in 1885, aged eighty years. They were the parents of the following children: Nancy, deceased; Green M., of North Carolina; Lucinda and Louisa; twins, of North Carolina; F. E.; Jasper, of North Carolina; Agnes; Jennie and Martha, deceased; and La Fayette, of North Carolina.
F. E. Moore was a lad of five years when his parents moved to Haywood county, North Carolina, where he was reared and schooled. When the Civil War broke out, he was compelled to enlist in Company I, 62nd Regiment of North Carolina (Confederate), but his sympathies had always been with the Union, as he was opposed to slavery. He was finally taken prisoner and confined at Camp Douglas, Chicago, for eighteen months. After this captivity, he accepted the amnesty offered by the government, and returned home before the cessation of hostilities. He remained in North Carolina a few years, and then came west to Platte county, Missouri, where he spent three years in farming, and thence moved to Cowley county, Kansas, in the spring of '1875. He had a number of horses, and drove through with his family. He located on 107 acres, in Silver Creek township, in section 4, township 31, range 6,east, which had been deeded to Messrs. Sparr and Elkins. About 32 acres had been broken, and a small claim house had been built. The fine grove of trees and the orchard were set out by Mr. Moore. He lived in the claim house until 1880, when he built his present fine stone house, which is 30 by 18 feet, in dimensions. His granary, barn and other outbuildings were erected as they were needed. In former years his crop was mostly wheat, but of late he raises all kinds of grain, and devotes much time to breeding Poland-China hogs and Shorthorn cattle: He has good wells, I4 feet in depth, supplying plenty of water, and the greater part of his farm is watered by a branch of Timber Creek. Of late years Mr. Moore has let his son, William W., operate the farm. Mr. Moore is highly esteemed by his neighbors, and throughout the community is regarded as a man of high principles.
F. E. Moore was married, in 1852, to Emily Clark Harbin, a daughter of J. W. and Rosa (Smith) Harbin, who Were the parents of three children, namely: Florentina, who is the wife of A. H. Robinson, of North Carolina; Emily Clark, Mr. Moore's wife, who was born, in 1829, in Haywood county, North Carolina, although her parents were from South Carolina; and Oliver Newton, who died at Cumberland Gap during the Civil War. Mr. Moore and his wife have four children, as follows: William W., who lives near his father's place, married Miss Higgins, and has two children,-Arthur and Blanche; Martha R. (Provence), who lives in Ness county, Kansas, and has four children,-Mary, Ollie, Hettie and Lulu; Ida E. (Elkins), who has three children,-Emma, Clyde, and Frances; and Mary J. (McClurg), who has three children, Walter, Emma and Ivea. Politically, Mr. Moore is a Republican; in religious views, he is a Methodist. Portraits of Mr. and Mrs. Moore accompany this sketch.
14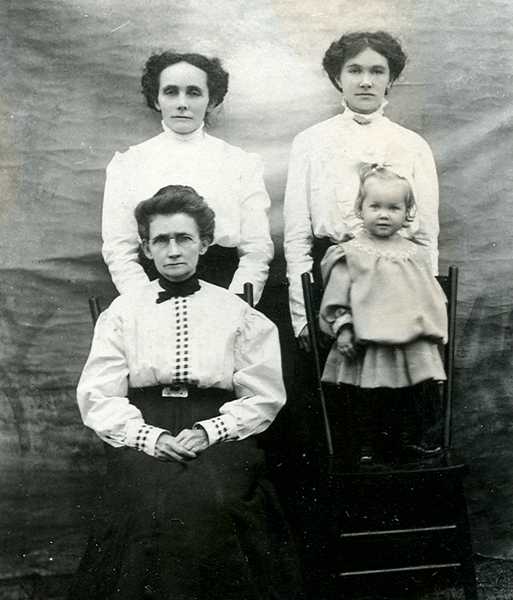 HIGGINS WOMEN (4 GENERATIONS)
Lower left and clockwise: Joanna Thrope Higgins, Mary Moore,
Blanche Robertson, Helen Moss
16
THE DESCENDANTS OF JOSIAH HIGGINS, 1782-1841
(Written for the Hiqqins Family Reunion, Cambridge, Kansas
July 30, 1967)
by Mary Maude Higgins Pease

Dear You-all higgins, Thorps, Pitts, Carrs, Harrises and so on. I'm only sorry I can't include the Browns in this, but I don't have the records of Uncle Alf's family.
As you all know, live been collecting data on the Higgins family for years. Until now, however, I have made no attempt to put my findings in order, deferring the task in the hopes that I would someday find that elusive ancestor, the father of Josiah and through him succeed in tracing the family back to the arrival of the first ancestor to America. I have a hunch who Josiah's father might be, but I am not sure... nor do I know where he, in turn, came from, so our known ancestry begins with Josiah Higgins, who came to Howard County, Missouri, in 1810 or 1812... well over 150 years ago.
I think the Higginses are Scotch-Irish. There are the Scots who emigrated to America in the nearly 1700s from North Ireland, where they had lived for nearly 100 years after leaving Scotland because of religious persecution. In fact, the Scots left Scotland for North Ireland about the time the Pilgrims left England for America, and for precisely the same reason. They lived to themselves in North Ireland., having no relations whatever with the Irish to the south of them who were, of course, Catholic. To be Scotch-Irish is a heritage of which to be proud; they have earned more medals of Honor and citations for bravery than any other ethnic group in America.
The mainstream of Scotch-Irish immigrants to this country entered by way of Pennsylvania and from there quickly spread to Virginia, North Carolina, and Tennessee, where our first known ancestor lived and, presumably, was born.
Josiah Higgins, born in 1782, was quite possibly the son of Philemon Higgins, a soldier in the Revolutionary War. Philemon, as some of you will remember, is a family name, and his age and probable place or residence indicate he could easily be Josiah's father but precise proof is lacking. Philemon was a private in Doherty's Regiment of Militia from territory south of the Ohio River and his name appears under the heading of a detachment of Infantry under the command of George Doherty, Requ., for the protection ,of the frontiers southwest of the Ohio. Part of this territory was, of course, what now is Tennessee.
Whether Josiah was Philemon's son may never be know; Josiah and his decedents however, are clearly recorded, as is Josiah's wife.. Barbara Smelser, born in 1779 to John Smelser and Catherine Higgins who, quite probably, was one of Josiah's relatives for marriages between cousins were common in the South. John Smelser was the son of Jacob Smelser, a German immigrant. There are many references to the Smelser family in Tennessee and Missouri records, all indicating that they were a solid and industrious family.(So there was good German blood in our family mixture long before .the Browns joined us. Alf's father, I've been told, bore the fine old German name or Braun, but as many people persisted in spelling it Brown he finally declared, All right.. let it be BROWN! And Brown its been ever since.)
Josiah and Barbara Higgins, with possibly two small children, left Tennessee in 1810 with several other families in an immigrant company commanded by Colonel Sarshell Cooper. They were joined by families from Madison County, Kentucky, among whom were the Thorps, the Witts, the Harrises, the Greggs, and the Nolands. The company headed west. And by 1812 settled in Boone1s Lick County Missouri, part or which was to become what now is Howard bounty. The families lived in frontier forts for protection against the Indians, each fort being composed or a series or connecting log houses, forming a protective enclosure where the livestock could be kept. They organized their own militia company and elected Sarshell Cooper their captain. Josiah Higgins and William and John Thorp were privates.
The Higgins family Jived in this community until 1837 when Platte County was organized. They, and many of their Howard County neighbors, moved on to the new county... always seeking a new frontier to tame. Josiah was elected Justice of the Peace. Barbara died in 1840, and Josiah in 1841. They were buried on their farm in Pettis Township, Platte County, Flat stone alabs mark their graves. They had nine children: Philemon (our ancestor), Josiah, Harmon, Jackson, William, Susan, Jacob, John, and Margaret (Peggy).
Philemon was born either in 1810 in Tennessee or in 1812 in Missouri...the record is not clear. He was very tall for his time--6' 3. He apparently was unusual in another respect: he was a college graduate.At least, so the record states, but which coI1ege will probably never be known, as, to quote the record further, the cow ate his diploma. Philemon married Lucinda Witt in 1836.
A lot of the gaiety in our family may have come from this union with the Witts, a French Huguenot family from Virginia. Lucinda was the daughter of Littleberry Witt and Fanny Hughes, and the granddaughter of WiI1iam Witt, a soldier in the Revolutionary War. William's parents were John Witt, who was born in 1710 in Powhatan, Virginia, and his wife Lucy Littleberry, from whom, as you now can see, came Uncle Berry's name.(Until he died, my father, Bud always thought that his uncle's name was little Barry rather than Littleberry Higgins!) John Witt's father was William Witt, a Huguenot from France who came to Virginia in 1699 with a band of Huegonots who were escaping Catholic persecution. They were the settlers of Manakintown, not far from Richmond, Virginia. Through this first William Witt, we all are eligible for membership in an interesting and most exclusive organization known as the Huguenot Society of the Founders of Manakintown, Virginia. For that matter, we all are eligible for membership in S.A.R. or D.A.R., Cotonial Dames, or the Huguenot Society through both William and other Revolutionary and Colonial ancestors.
Thirteen years after Philemon Higgins married Lucinda Witt, he succumbed to the itchy foot tendency W1ich marks the family to this day. Outfitting a wagon train, he joined the 49ers on the long overland journey to California and the gold fields, packing his family along. The adventure cost him dearly he found no gold, used up all his resources, which were considerable, and lost his wife enroute home, leaving her body in an unmarked grave somewhere along the trail.
There is a story connected-with Philemon's trip which bears repeating. When he sold out to go West, Philemon freed his slaves. One of the young male slaves wished to accompany him to California, and when Philemon refused to take him along, hid in the wagon train and went anyway. Before reaching the gold fields, however, the negro died. Many years later, Philemon's son, Grandpa William Wallace Higgins, met a negro at an old soldier's reunion and in the course of their conversation discovered that he was talking to the son of his father's former slave, who until that moment had never known what had happened to his father.
Philemon died in 1887. His place of burial is unknown, but one of the several farms he owned is in what now is Siloam Springs, Arkansas. His children were: Sarah (m. William Moble), Josiah, Littleberry (m. Aurora Brink, Benjamin Franklin (Frank) (M. Ellen brink}, William Wallace (m. Joanna Thorp), and Jacob.
William Wallace Higgins, my grandfather, was born April 23, 1846, in Parkvi11e, Missouri. He married Joanna Thorp on December 25, 1868. Aunt Francis wrote so charmingly about Wil1iam Wallace and Joanna that further mention here is unnecessary, as I presume you all have a copy of her story.
Through Joanna, however, comes a Virginia heritage we all can take great pride. Joanna's grandfather, Josiah Thorp, was one of the Kentuckians who joined Josiah Higgins and his Tennessee neighbors on the trek from Missouri in 1810-1812. He was a native of Albemarle County, Virgi,lia, and the descendent of Thorps who go back to the earliest days of historic Williamsburg, Virginia. The first Thorps lie under large granite grave covers in the churchyard of Bruton Parish Church in Williamsburg. Their names and the dates of their births and deaths can still be read on these grave stones, and brass plates mark their pew inside the historic old church. Every time George Washington attended services in that church, where he occupied a front pew, he and Martha walked right past those graves and, who knows, perhaps paused to read the legends thereon... for in the days the Washingtons attended Bruton Parish the Thorps had been at rest by the front entrance for more than 100 years! Through the Thorps we are descendents; of the Carrs, the Harrises, the Hollidays and the Grubbs...all fine old families of the South.
Grandmother Joanna, whose father Josiah married Mary Carr, was unnamed for at least the first six months of her life, according to the census of 1850 which
reads:
| | | | |
| --- | --- | --- | --- |
| NAME | AGE | OCCUPATION | WHERE BORN |
| Josiah Thorp | 31 | farmer | Missouri |
| Mary, wife | 26 | | Kentucky |
| Mary | 5 | | Missouri |
| Isabella | 3 | | Missouri |
| girl | 6/l2 | | Missouri |
| Margaret Carr | 67 | | Kentucky |
| | | | |
Probably girl was unnamed because papa Josiah had joined the gold rush before her arrival and had not yet returned. The Margaret-Carr undoubtedly was Mary's widowed mother.
The children of William Wallace and Joanna Thorp Higgins were: Mary, Arthur Otto (Bud), Clifton Riley (Clif), Aurora (Aurie), Pleasant Clyde (Plez), Jackson (Jack), Everett Wallace (EV), Bessie, and Annabelle.
This brings us down to now. It traces the Higgins line back to 1782, the Smelsers to a somewhat earlier date; the Witts to 1699 and the Thorps to even earlier than that. But of equal weight are the genes we have inherited from other names: Carr, Claiborne, Gardiner, Glenn, Grubb, Harris, Holliday, Hughes, Hearne and Waters. Someday, perhaps, I can tell you about them.
God love you all!
This is an unbelievable resume of the years that Josiah Thorpe Jr., my great grandfather, lived here and there, always moving in a conestoga wagon and a team of horses, because there were no automobiles at that time. Begins in 1850: Mary, his wife, was pregnant with a girl, Joanna, my grandma. They lived in Buchanan County, MO. Josiah, Jr. left for California to prospect for gold in fall, 1849. Joanna was born in May, 1850. Census listed Joanna as girl, 6/12of age. Joanna was 7 years old before Josiah came home--broke. As Civil War and bushwhackers threatened, they left on foot for Kansas, rafting across the MO River.
Wallace Higgins (my grandpa) was on the Oregon Trail with his mother, Lucinda Witt and father Philemon Higgins, along with 3 other children. Lucinda died either on the trail or in California or maybe on the ship home. I haven't found out, after many hours of research where she was buried. Philemon brought 4-year-old Wallace and 3 other kids home, but he parceled them out to relatives. So I don't really know who raised him, but Wallace was in the Civil War, and after the war, he was riding his horse one day; fell against a fence and injured a leg. Josiah Thorpe took him home and the family nursed him to health. As aunt Francis (a sister-in-law) said, He took a turn for the nurse,(Joanna), and they were married December 25, 1868 in the family home. They first lived in a one-room cabin in Wyandotte County, Kansas.
The following is just a year by year account of their domains and why, if possible:
Sept, 1869, Alvin was born. He died within the first year. In Wyandotte Co, KS, 1870, Mary was born. March, 1871, made trip to Atlanta, KS. Took 16 days, probably by oxen. Nov. 1871, Bud was born. 1872: Moved back to Bucannon, CO, MO where Joanna's parents lived. 1873: Frankie was born. 1873: Summer, they went to the Cherokee Nation. Late fall, they came back to MO. 1874: Spring, Wallace went to Idaho to find gold. Joanna went as far as Kansas and stayed. She also buried Frankie. 1876: Joanna started for Idaho via train and stage, with Bud and Mary. She was on the road, train and stagecoach for eleven days. 1877: Cliff was born in Idaho. Rocky Point, I believe. 1878: Back to KS. Joanna traveled alone with 2 small children and a baby.
There were too many threats from the Indians. The kids played outside the window of their cabin, and if the whistle blew at the plant where Josiah worked, she knew it was an Indian threat, so she would grab them quick and bolt the door. One tried to steal Cliff out of the door of the stagecoach as Joanna left Idaho, alone again with three kids at that time, but the driver whipped the horses, and they jerked away from him.
1880: Aura was born 3 miles south of Atlanta.
1880: Moved back to MO in a prairie schooner and pots and pans.
1882 Pleasant was born
1884: Jackson was born
1884: Fall, they moved back to Cowley Co. KS
1886: Eve was born in the 10x12 cabin. It had a tiny wood stove, homemade tables and benches, 2 beds and a trundle bed, a few chairs; they used goods boxes as cupboards. Dishes and cooking utensils: two cast iron dinner pots, a cast iron skillet, a bread pan, 2 pie tins, tin cups, three or four small bowls, steel knives and forks (polished every day with wood ashes).
1887: Moved back to the Cherokee Nation. Spent the summer there.
1887 Fall, moved back to KS to stay. (I think it was the same log cabin, but Wallace built on to it. Wallace had an 80-acre Civil War patent just 3 miles south of Atlanta, and sold it to get money for his trip to Idaho. I don't know whether there was a cabin on it or not, so am not sure where they lived in the cabin. )
1889: Bessie was born
1892: 3 years later: Annabelle was born in a dugout south of Atlanta. No telling where else they were during those three years.
As long as they lived, the Higgins kin enjoyed a yearly family reunion. It was sad to see them leave us one at a time. Aunt Mary, in her diary told how they baked and cooked special dishes, made ice cream, etc. They had the reunion in different homes, and as a kid, I could tell you some of the places in Atlanta and surrounding farms, in Cambridge, Gordon, Tonkawa, and in Cambridge. I was 8 when my grandma Brown died. I don't remember any other grandparents, but they left wonderful memories through their funny, beautiful, joking, thoughtful and loving kids.
This story was written by one of the sisters-in-law. It is a story told by remembrances and discussions of the people she knew. I believe it was written by Aunt Frances Higgins, wife of Uncle Jack. It is hand-written in long-hand, but in places it is sorta confusing, so I decided to type it, so you could read it leisurely and enjoy. She didn't put paragraph makings in it, so I will write it as she wrote it. Bobbie
This story begins in Buchannon Co. Mo. in the year 1850 in a small log cabin on the banks of the tumultuous Missouri river, where Josiah and Mary Thorpe lived with their family. For many days they had debated the wisdom of him crossing the great plains of America to go to Calif to prospect for gold. At last it was decided he should go. But when? In April the Higgins wagon train was to start. The last of May a smaller train was to depart from Atchinson, Kansas. They argued the pro and con of this trip when to start? As Mary was expecting the usual 2 year visit from the stork in May (those days we did not have planned families). It was God's will.
Mary won that Josiah was to go in April with the Higgins wagon train that was the larger of the two; therefore was much better protected with the very best of scouts and the militia. In this wagon train was one William Wallace Higgins, age 4. In due time Mary was delivered of one tiny, blue-eyed baby girl, henceforth to be known as Joanna. She was 18 months old before her father knew about her at all. News did not travel in minutes in those days, and then mostly by word of mouth, and if one was prospecting in the hills for gold it was days and weeks before he came back to the settlements.
Joanna was seven years old when her father came back from Calif Older and wiser but without any of the fabulous gold to bring back to a patient Mary. For many days after his return to his home, Joanna always call him That Man. Time in those days marched on just as it does now. Joanna romped and played with her brothers and sisters. Just a tiny blue-eyed girl. Then came rumors of a civil war. Boys that one played with today were gone tomorrow. Unrest, turmoil and worry was in the heart of man those days.
Then to add to their sorrow, bushwhackers began their raids of destruction and ambush killings until it was not safe for peace-loving and God-fearing folks to stay in Mo. So one dark stormy night, rain coming down in torrents, with lightening their only guide, they packed what few things they could carry in their arms left their home and what livestock they owned and crossed the greedy, grasping Missouri river at flood stage on a frail raft. From Mo. with its unrest. Into kindly sunny Kansas that gently folded them into her loving arms a refuge to all whom sought comfort from the ravages of war torn states.
In the mean time our Wallace had grown to manhood, after crossing the plains in a prairie schooner, then home on the boat on which his mother and her small baby passed away. His father Phillemon Higgins prevailed upon the captain to put in at a small island and bury them rather than have them buried at sea, just where that tiny island is no man knows. But God in his infinite wisdom knows and not one of his children shall be lost. Wallace experienced things that we in our hot house existance highly educated state would know would ruin our children. Their nerves would not stand the strain of being quite for hours, being in hiding for hours on end but obedience in those trying times ment life not only to them but to all. Wallace served in the civil war enlisting in Co A, 6th Kans Vol. Cav, was mustered out at DuValts Bluff, Ark July 18-1865. He then became anxious to see the state of his birth. Mo. to look at old land marks and fish in streams he had known in early life. Our Joanna saw him pass their home, a handsome 6 ft lad with coal black hair and laughing grey eyes. She wondered just how she could meet this handsome boy and be lady like about it. No wolf whistle in those days. On day as Wallace rode the trail his horse became frightened and ran away runninto a rail fence cutting & bruising his limb. Joanna father brought him into the home to dress and care for the injury. Which was so bad, he had to stay in the Thorp's home for some days. From this meeting the romance marrying of William Wallace Higgins, 21 and Joanna Thorpe, 17, Dec. 25-1867. Theirs was a home wedding. They had no hot house flowers. No white vail or white satin, just a union of love. To this union 11 children were born. They went to keep house in a small one room log cabin where Alvin was born the following September, just as indian summer was at its best; he stayed with these parents not quite one year when he was called to his heavenly home. He was born on Chief Johnny Cake's gov. holdings in Wyandotte Co, Kansas. Wallace tried to buy this land. But $80 for 40 acres of land was goo great a debt for these youngsters to sholder, their first crop on the ground was flax, then im March 1870 Sister Mary came to bless the union, she was born in the same one room log cabin. They lived in this house untill Mar 1871, when Wallace and Joanna decided to move farther west in Kansas. They made a record trip from Wyandotte Ks. to 3 mi. S of what is now Atlanta Kansas in 16 days with an ox team, a distance that never before had been made in less than 20 days some times more. No high ways, no read markings with just a trail, their trust in God, a good driver with an instinct of direction & a natural ability to read the sun, moon & stars. Wallace and Joanna had no clock, no watch, their only means to start fire, a flint. Their only possession were their prairie schooner & oxen, 1 iron skillet, an iron teakettle that was used as coffee pot too, some bacon, a small amount of white flour, some corn meal, salt and soda, and brown sugar. They depended on the wild game for the greater part of their food. Joanna used sour dough for her bread, which was always corn pone or biscuits. Bud was born on this claim they staked 3 mi So of Atlanta in Nov. 1871, as far as is known he was the first white make child born in what is now Cowley Co Kans. Joanna delivered this too in a small 1 room log house with out the aid of Dr. nurse or sterile operating room. Just two good friends & neighbors Liz Freeman & Grandma Sphar, who rode two and one half miles on a mule bare back in one of the worst blizzards that has ever been know at this time of the year, they assisted nature the best they knew how, still they had no stove or lamps, depended on the fireplace for heat as well as light. Then the year 1872, they moved back to Bucannon Co. MO. where Joanna's parents lived, here Frankie was born in another log house in Feb, 1873-that summer they went to the Cherokee Nation, then in the late fall of that same year they came back to Mo. Wallace had the idea that if he went west he could soon be rich. He wanted to go to Idaho. But Joanna wanted to stay in Kans. But in the late spring about June 1874, it is believed, he went to Idaho in the saw tooth mts. In Aug of that year Joanna buried little Frankie. Her great faith in her God susustained her in the hours of sorrow. It wasn't untill the late summer of the next year, 1875, that she knew just where her husband was. In May, 1876, Joanna started to Idaho via train and stage coach with 2 small children, Mary and Arthur better known as Bud, from Atchison Kansas to Salt Lake City Utah they were on the train 6 days and nights. No pullman for them, just a plain day coach; then by stage coach to Rocky Bar Idaho; these were trying times with two small children. Every ten miles horses were changed & every 30 miles stages and drivers were changed. Half wild horses were roped & hitched to this heavy lumbering, swaying coach, that boasted of no springs only raw hide straps with what little give they had as steel could not stand the rough trails of those days. They forded streams. She rode miles & miles this one tiny woman & two small children with rough miners gamblers & at last this weary journey of eleven days came to an end. The family was reunited again after more than two years. Wallace had found plenty of claims to stake, but no gold. He was working at this time in a saw mill in summer & in winter he carried the mail from Atlanta Idaho to Rocky Bar a distance of 25 miles which took three days on skyes. The indians were on the war path at this time but in winter with deep snows there wasn't as much danger of attact as in warm weather It was this winter of 76 & 77 that Mary and Bud learned to ski, Wallace made them skis like his own; they were much longer than Bud or Mary was tall. Again the family was living in a one room log cabin snuggled back in the Mt. Side, there were 2 half windows, one on each side & 1 door in the end of the cabin with heavy planks to guard against an indian attact, with peep holes to see and shoot thru. The small windows were even with the ground. Then in 1877 Cliff came to live with this family; he came high, but came he did over 10000 ft above sea level. Again a child was born without the aid of med science. In the spring of this year a bear had been raiding the camp for food. The lumber men a tough bunch of fellows decided it would be fun to get the bear drunk, so they rolled the mollasses barrel out of the cabin by the door & put in a quanity of whiskey. Sure enough in the morning Mr. Bear was down drunk; as he began to sober up the men took turns boxing with him, but later in the day as the effects of the alcohol began to leave him he got to rough so Wallace shot him. I believe Everette has a claw now from this bear. That summer the indians were on the war path. Mary & Bud were allowed to play out doors only if they stayed close enough to the windows that Joanna could reach out and grab them thru the window if she saw or heard any unusual noise, or if the mill whistle blew at an unusual time. One day about noon the whistle gave the alarm. Without stopping to see what the cause was, in came two badly frightened children, right thru the windows up went heavy boards, door closed and barred, then it was time to look thru peep holes to see the mill completely surrounded with indians in all their glory of war paint & feathered head dress. They were quited down and left, but not entirely peaceful, so again Wallace & Joanna decided to come back to Kansas. She made the long trip again alone but this time in a hostile indian country with three children & one a small baby. Just the day before they started again across the plain the stage had been attack by indians all had been killed, scalped & burned. Joanna told about the ruins still smoldering & smoking at one stop for a change of horses. An indian chief put his head in the door & said Me want papoose. But just as he reached, with a whoop & sudden lurch coach & passengers started on so Cliff came on home with a badly frightened family.
Wallace stayed to sell some oxen they owned & to try & collect some $800.00 he had coming in wages from one Clifton Riley, the mill owner. These wages were never collected; later Wallace came on after a narrow escape from indians. Then in April 1880 Sister Aura was born another tiny blue eyed baby girl in a log cabin 3 mi south of what is now Atlanta Kansas, over looking the fertile valley of timber creek with its abundance of fish, deer & antelope, roamed these beautiful rolling plains, with now & then a small herd of buffalo, prairie chickens, wild turkey & quail were pentiful. Squirrel played in the
trees & made excellent targets for Wallace rifle. In Aug of this year again Wallace and Joanna loaded their prairie schooner, with their pots & pans & 4 small children & moved back to Mo where in 1882 Plesant Clyde came to keep little sister Sura company & sing to her. He wasn't so good as a baby sitter though, for in May of 1774, Cliff, Aura and Plez were bitten by a mad dog. Big sister Mary & Wallace took these children 45 mi in a spring wagon to a mad stone, at that time thought to be a sure cure for rabbies. But in Jan of this year 1884, Jack, not to be left out of the good times & fun this family was enjoying arrived to make fun of & for them. He too was born in the same log house that Plez was born in but glory be this was a mansion. It had 3 rooms down stairs & an up stairs too. It was a slave owners home. The old slave quarters were still standing and bore the marks of bushwhackers bullets, then in the fall of this year, the family decided to move back to Cowley County, Kansas, where in 1886, Everette Wallace was born; again the family was living in a small log cabin 10x12 ft, but this fine dwelling boasted an attic, of course one coulsn't stand up here as the roof was so very low. But it was a fine place to put beds on the floor and store sleepy children. But downstairs they had 2 beds and a trundle bed, the other household furnishings were: I tiny cook stove, small home made table, benches that were put under the table between meals, a few strt (sp) chairs. Goods boxes served as cupboards and built-ins, and remember this was all in this 10x12 room. The cooking utensils and dishes were: 2 cast iron dinner pots, 1 cast iron skillet, I bread pan and two pie tins, some tin cups for the children, 6 plates, cups and saucers, 3 or 4 small bowls, steel knives and forks (polished each day with wood ashes. This was a must for Joanna's knives and forks-must shine and sparkle like silver) 6 plates, sister Mary remembers that this was plenty for that was all that could sit at the tiny table at once. Mary was now doing her share of caring for this family of plutocrats (they owned a sewing machine). Big sister did all the sewing while Joanna knitted all the sox & stockings. All their clothes were home made from underware to suits and o'coats. They did all their washing on the board, with water heated in an iron boiler, they used home made lye soap (lye made by saving the wood ashes and pouring water over these) they were put in what they called a lye hopper and kept dry untill spring when the lye was made. Then in the early spring of 1887, the family moved again to the Cherokee nation spent the summer, still searching for the pot of gold at the end of the rain bow. There in the Cherokee Nation is the only time and place that anyone can remember Jack being able to run fast as Bud, and throw a rock as far. That fall they moved back to Kansas to staySunny Kansas. It gets into the blood untill its almost impossible to desert her, and how far the distance one may roam she is never entirely forgotten. Authors note: have you noticed all this family has been born in log houses to date? Would that account for so many block heads?
Then in June 1889 Sister Bessie came to make her home with this happy family she too was born in Cowley Co. Kans on a beautiful little knoll, not far from where Sister aura was born. By this time one had roads to travel, some were trails across the beautiful rolling plains and up and down beautiful tree studded bluffs that his part of Kansas is noted for. The family now had much more room, 3 of them; a big kitchen of stone 16x 12, a tiny bedroom, and the main part of the house was 12x18 ft. built of lumber Wallace had helped cut and saw all (except the floors which were of hewn oak) this house was black walnut, the shingles Wallace did make with a frow and were called shakes, they were about 4 to 6 inches wide and 18 to 10 inches long and were called shakes. Later Bro. Jack owned this farm and tore down this building. All studding was hand hewn of black walnut with some pegs to put it together, all nails were all square cut of iron.
In April 1892 Annabel arrived to play with sister Bessie. She was born in a rock dug out with one half tucked back in the hill side to shelter them from the blasts of the cold north blizzards. It, too, look out over the beautiful hills and fertile acres of Timber Creek. She came in time to see the miles and miles of covered wagons on the trail, to make the run into Cherokee Strip. So each year these Brothers and Sisters gather to pay homage to a wonderful heritage, of a family brought up to honor thy father and mother, to respect the rights of others, to Love God and Thy Neighbor as thyself
One of the sister-in-law,
Frances Brooking Higgins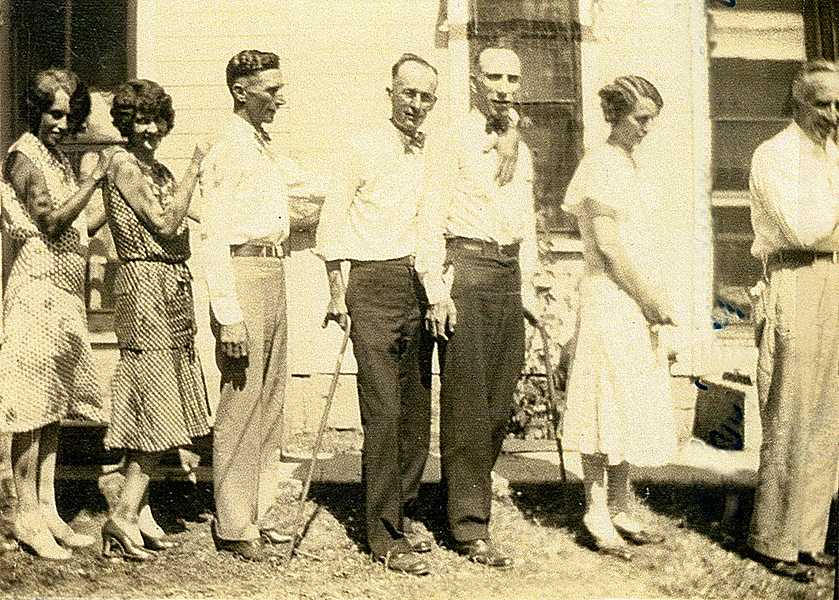 Annabelle, Bessie, Eve, Jack, Plez, Aura, Bud (Mary Cut Out) July 6 1930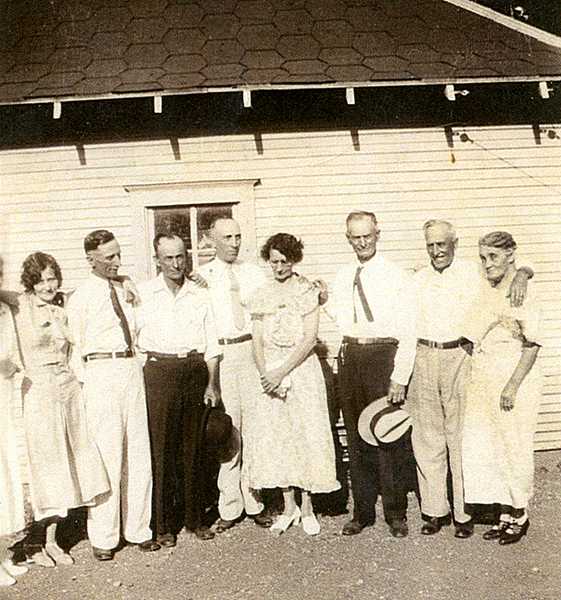 (Annabelle Cut Out) Bessie, Eve, Jack, Plez, Aura, Cliff, Bud, Mary 1935
21
22
23
Julie and I were in Kansas in 2004. Billy joined us for a trip to the Cowley County Courthouse to look for some information at the Clerk's Office. I just coyly asked the clerk, who I knew, if there was a way I could get some records of my Grandfather Higgins' records. I knew he had been admitted to Osawattomie Veteran's Center, as insane.
Evelyn looked in the computer, notified me that I needed to have a judge's OK for her to release them. Just then, I saw a guy putting on a black robe. I said, Excuse me, could I see you for just a second? He was ready to go into chambers to talk to about 10 orange-clad men. He came over, leaned on the counter. I told him my plight. He turned to Evelyn and said, Oh, give them to her. They are so old, nobody else would want them.
I asked Evelyn how I could get them. She took me upstairs to the spider-webbed, dusty attic.
She found them, sat down and copied them off for me. 40 pages. I found out that, as my mother said, a runaway horse and cart threw Grandad out of the cart, and he was never the same again. But he got gradually more violent, and his poor wife and boys, especially Cliff, had to have him put in Osawattonie.
He was there from 1907-1911, except for a few months that they tried to see if he would be all right, but he wasn't, so they put him back in. When he died, according to accounts in Aunt Mary's diary, they notified Mary, she called the family, and those in Atlanta met the train the next day, containing the wooden coffin of William W. Higgins. The rest of the family met them at the gravesite, and WW had died and was buried within 48 hours.
After living as an orphan for many years, fighting in the Civil War, raising a large family, and experiencing loneliness the last 4 years in the Veteran's Home, he was finally at peace. The records also show that he had begun to drink heavily. Don't know where he got the price of the liquor, but I imagine friends helped him. He died of Erysipelas, a deep red inflammation of the skin or mucous membranes. I am glad that he had a loving, caring family that did all they could.
Bobbie
25